CANVAS EXPLORES ART BELOW REGENT'S PARK
Posted on: Sat, 22 Oct 2016
Canvas the home of the UK Arts scene on Youtube, explores the artists who are featuring work as part of Art Below Regent's Park, October 2016. This international selection of artists include Robert Lee Davis, Anna Fafaliou, Jennifer Morrison, Kim Smith, Martin D. Drexler and Holly Carlson. Canvas met them all to discuss their work, which ranges from traditional portraits and neon installations inspired by music, to more abstract images painted in menstrual blood.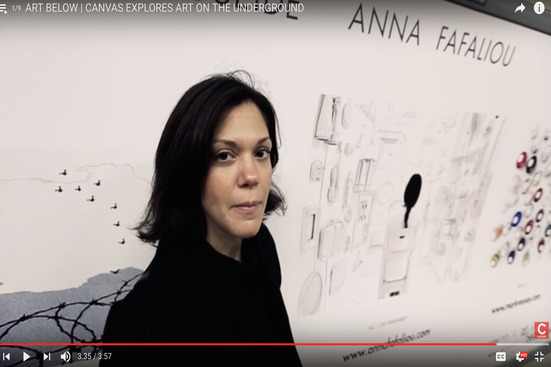 Art Below at The Other Art Fair
Posted on: Mon, 19 Sep 2016
Art Below are proud to be representing London based artist Robert Lee Davis at The Other Art Fair at East London's Truman Brewery, 6 - 9th October. Robert works primarily with paint and collage and his work will also be on display as a 3 meter wide billboard poster at Regent's Park underground station for throughout October.
Art Below Regent's Park 2016
Posted on: Thu, 11 Aug 2016
We are now accepting submissions for our most important show of the year 'Art Below Regent's Park', where we 'Turn Ad Space into Art Space' at Regent's Park tube station throughout October to coincide with Frieze.


As an Art Below exhibitor your artwork will be printed and showcased as a billboard poster for 4 weeks on the Bakerloo line platform at Regent's Park underground station.
This impressive showcase of underground art will culminate in a group show exhibition in the ground floor space of the Truman Brewery, Brick Lane, where if selected you will be one of 30 artists exhibiting your work. The exhibition will open with a private view drinks reception on the 27th October (6-9pm) and will be open daily to the public until the 30th October.
If you wish to grasp this unique opportunity to exhibit in 'Art Below Regent's Park' please
register here
to receive further details.
Application Deadline: 26th August.
To view 'Art Below Regents Park 2015, 2014, 2013' and 2012'
click here