Art Below at Le Dame Gallery
Posted on: Sun, 4 Dec 2016
Art Below are featuring the work of 6 selected artists from the Grid Art Fair at Regent's Park tube station for the first two weeks of December. Their work will also be on show at Le Dame Gallery in Regent's Park opening on the 8th December. This coincides with the Art Wars Rogue One Exhibition also being held at Le Dame Gallery.
Artists showing their work at Regent's Park tube station:
Ariel Chavarro Avila​, Giuliano Fazzari​, Debi Crouse​, Sarah Fosse​, Linda Lipinski​
CANVAS EXPLORES ART BELOW REGENT'S PARK
Posted on: Sat, 22 Oct 2016
Canvas the home of the UK Arts scene on Youtube, explores the artists who are featuring work as part of Art Below Regent's Park, October 2016. This international selection of artists include Robert Lee Davis, Anna Fafaliou, Jennifer Morrison, Kim Smith, Martin D. Drexler and Holly Carlson. Canvas met them all to discuss their work, which ranges from traditional portraits and neon installations inspired by music, to more abstract images painted in menstrual blood.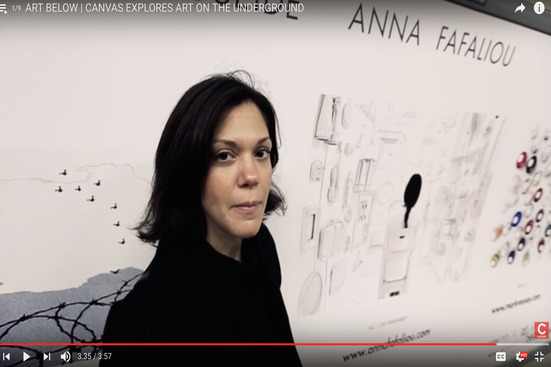 Art Below at The Other Art Fair
Posted on: Mon, 19 Sep 2016
Art Below are proud to be representing London based artist Robert Lee Davis at The Other Art Fair at East London's Truman Brewery, 6 - 9th October. Robert works primarily with paint and collage and his work will also be on display as a 3 meter wide billboard poster at Regent's Park underground station for throughout October.