Current Exhibitions
There are no current exhibitions.
Future Exhibitions
14/01/2019 to 27/01/2019
Art Below Hyde Park 2019
We are now accepting submissions for our first group show of 2019 'Art Below Hyde Park' giving you the chance to have your art printed and displayed on billboard space to an estimated 10,000 people daily at Hyde Park Corner Tube station from 14th January for 2 weeks.
As an exhibiting artist you are also invited to exhibit a piece of your original work at London's prestigious Herrick Gallery, 93 Picadilly, which is based on two floors in the heart of Mayfair (5 mins walk from Hyde Park Corner Tube Station) and has played host to Art Below's Summer Exhibition. The gallery group show opens with a private view on 15th January where artists and guests can enjoy complimentary drinks. All the work will be for sale and the exhibiton will be open to the public daily (11m - 6pm) until 19th January.
If you wish to grasp this unique opportunity to exhibit in 'Art Below Hyde Park' please
register here
to receive further details:
Application Deadline: 15th December 2018.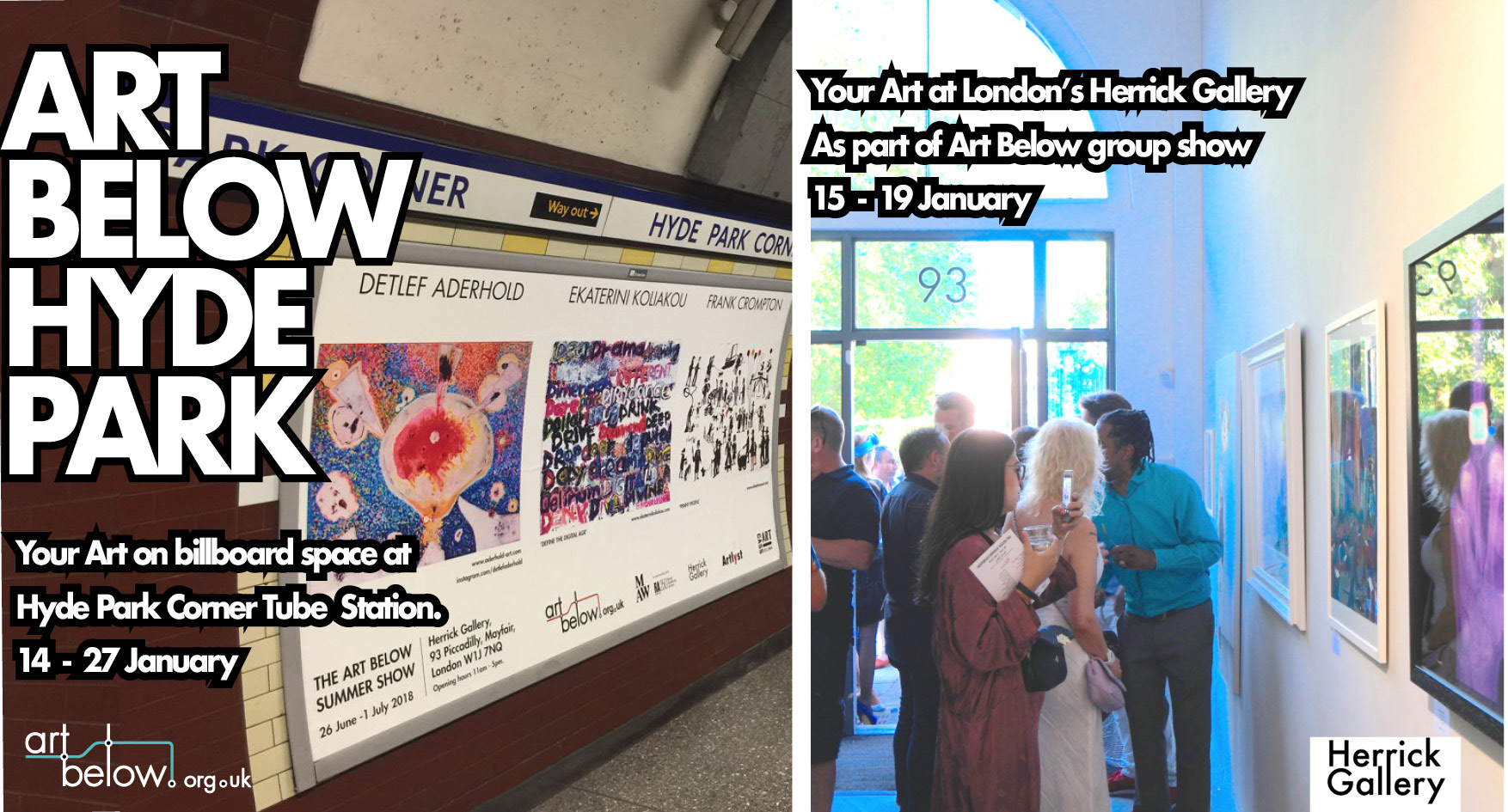 Past Exhibitions
| Title | Started | Ended | City | Country |
| --- | --- | --- | --- | --- |
| Art Below Los Angeles | 29/10/2018 | 12/11/2018 | Los Angeles | USA |
| Art Below Regent's Park 2018 | 24/09/2018 | 21/10/2018 | London | UK |
| Art Below Summer Show 2018 | 18/06/2018 | 01/07/2018 | London | UK |
| Art Below at the Other Art Fair, March 2018 | 12/03/2018 | 25/03/2018 | London | UK |
| Art Below Los Angeles, December 2017 | 04/12/2017 | 16/10/2017 | Los Angeles | USA |
| Art Below Regents Park 2017 | 25/09/2017 | 22/10/2017 | London | UK |
| Art Below Summer Show 2017 | 19/06/2017 | 03/07/2017 | London | UK |
| Crucifixions: Francis Bacon, 2017 | 13/03/2017 | 27/03/2017 | London | UK |
| Art Below Los Angeles | 13/02/2017 | 28/02/2017 | Los Angeles | USA |
| Art Below and Art Rooms in new collaboration starting this January. | 16/01/2017 | 30/01/2017 | London | UK |