'CHOOSE YOUR HERO' OPENS AT RE:CENTRE, HAMMERSMITH
Re:Centre Present 'Choose Your Hero' Exhibition
Private View: Thursday 4th October, 6.30 - 8.30pm
Address: Re:Centre, Thames Wharf, Rainville Road, London W6 9HA

EXHIBITING ARTISTS: Timothy Gatenby, Sabrina Rowan Hamilton, Jo Holland,
Harriet Hoult, Emma Johansen, Ru Knox, Stephanie Mill, Fleur van der Minne,
Rita de Sa, Simon Stephenson, James Vaulkhard
CURATOR: Ben Moore
In the communal Riverside studio at Re:Centre, Hammersmith, nine London based artists have been given the chance to step out of their traditional modes of working, and enter a reflective and inspiring space to reconnect to themselves, to others and to their creative practice.
Each three month residency culminates in a two week long exhibition at Re:Centre's 4000 square feet event space.
The first exhibition titled 'Choose Your Hero' is based on the theme
of The Hero's Journey (Joseph Campbell) and is curated by public art curator Ben Moore.
'Choose your Hero' opens with a private view on 4th October 6.30 - 8.30 pm at Re:Centre. Following the private view the exhibition is open to the pubic
(admission free) 11 am - 5 pm daily until 17th October.
Selected works by each of the nine artists will go on display across billboard space at Regent's Park from 24 September for four weeks supported by
Art Below.
25% of the proceeds go towards developing Special Yoga at Re:Centre which aims to support and facilitate the practice of yoga for children and adults with special needs.
'Whether you call someone a hero or a monster is all relative to where the focus of your consciousness may be.' Joseph Campbell, The Power of Myth
For interview requests and high resolution images please contact:
Beck Moreno
E: beck@rbkmarketing.co.uk
For sales Enquiries please contact:
Fleur van der Minne
E: artsales@recentre.co.uk
TIMOTHY GATENBY
Timothy Gatenby (b. 1987) is a contemporary British figurative artist whose work focuses on the subjects of nostalgia, dreams and memory. Working predominantly in oil paint there is a certain reverence to classical painting acknowledged in Gatenby's work but evidently subverted.
Since training under Charles Cecil in Florence, Italy, Gatenby has exhibited regularly around the UK. His work has been displayed at the National Portrait Gallery, Royal Academy of Art, Royal Society of British Artists, Royal Birmingham Society of Artists and Columbia Threadneedle Prize.
Through his limited palette and the ghostly distortion of imagery a sense of foreboding lurks behind the softly executed painting surface in Gatenby's world. An interest in the ethereal is manifested in his documentations of everyday rituals where blurry painterly handling is juxtaposed with more abstract mark-making exploring the oblique nature of the subjectification of reality. In Gatenby's work an investigation into how memory perceives events is undertaken through observations based-in nature combined with unconscious recollections of these moments.
SABRINA ROWAN HAMILTON

Sabrina studied at City and Guilds of London Art school achieving a first class degree in painting 1989-1992 and an MA ten years later in 2001.
She has won numerous art prizes as well as being shortlisted for the much coveted Natwest Art Prize three years in a row.
She has exhibited in Tokyo, Miami and Hong Kong where she is represented by the Cat Street Gallery.

www.sabrinarowanhamilton.co.uk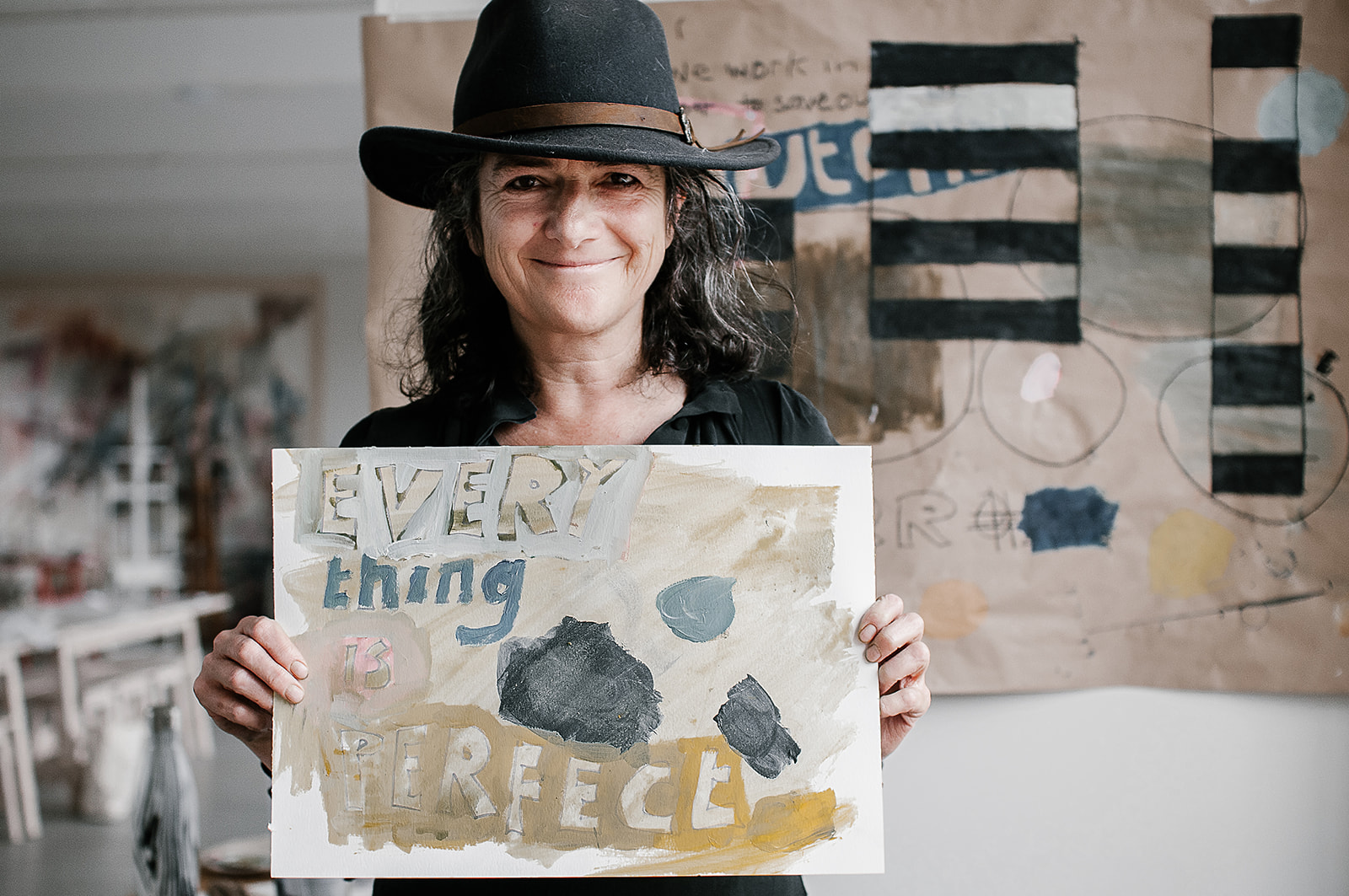 JO HOLLAND
"The creation of something new is not accomplished by the intellect but by the play instinct acting from inner necessity"
CARL JUNG
Jo Holland creates unique photographic images without a camera or film.
Jo has always had a fascination with light, and light recording.
She loves to create original photographs via analogue process's that she further composes digitally to blend the classic with the contemporary.
Mark Osterman, Photographic Process Historian at George Eastman House International Museum of Photography and Film in Rochester, NY, has explained the transcendental beauty of Jo's images is due to the combination of both transmissive and reflected light being recorded onto photographic paper.
Jo's artworks are focused on composition, balance and harmony,
often informed by her meditative practice.
Her seductive large scale original and edition prints,
celebrate nature, beauty and elegance.
www.joholland.com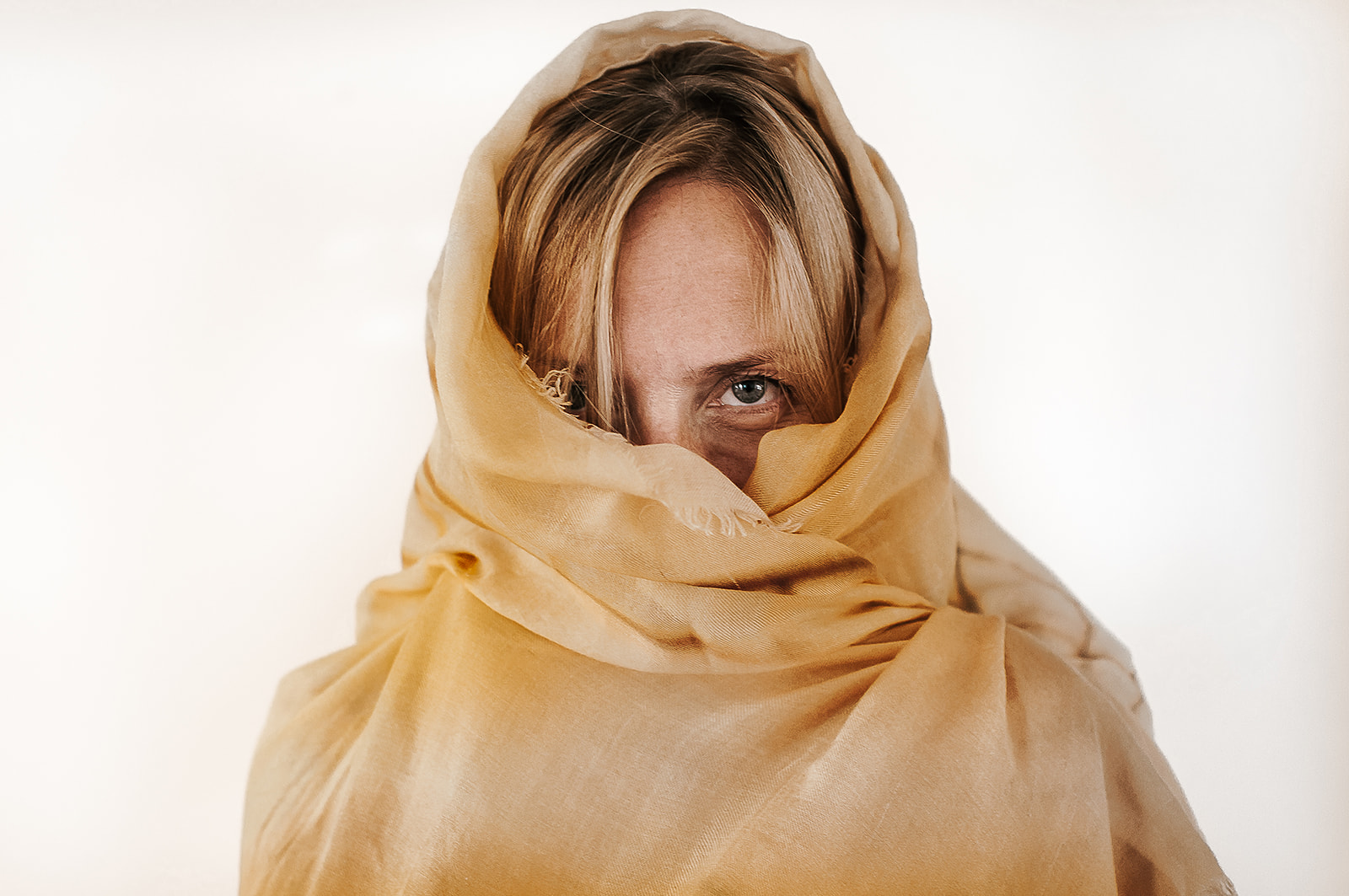 HARRIET HOULT
Harriet Hoult is an abstract artist based in London, with an instinctive approach to her work. She works mainly with acrylic on paper and also uses collage, oil pastels and watercolor.
'I tend not to plan, says Harriet. 'I have an image in my head as a starting point and I make some marks in the direction of that original idea. Then I feel my way to what the next set of marks will be. It?s a moment-by-moment evolving process. I am inspired by the everyday, often random things that I see and
experience in the world around me; the way the light makes a particular shape on a wall, a radio interview with someone I admire, a tree stump in the park.
My work is my interpretation of these experiences onto paper. I am fascinated by aesthetics and exploring the visual interplay between form, space and colour'
www.harriethoult.com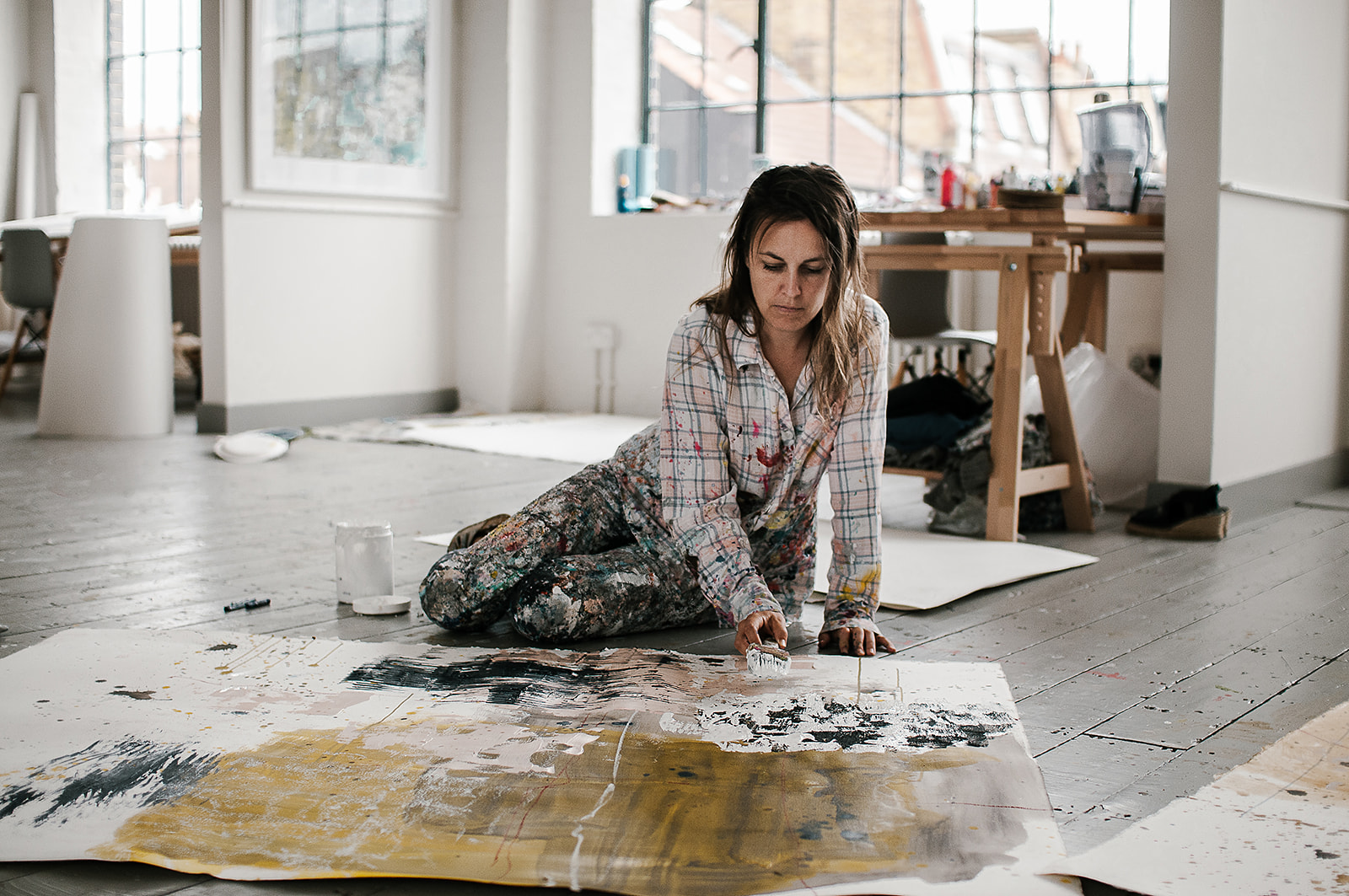 EMMA JOHANSEN
Emma Irma Johansen was born in Lithuania and spent half of her life in Denmark.
She been painting, drawing, sewing since very early days and later studied fine arts, costume design, design technology and sustainable fashion.
Emma has exhibited in Lithuania and Scandinavia.

In the last few years she been traveling the world,exploring and getting inspired by different cultures which fuels her art at the moment as she is settling down in London
Painting abstract on canvas using mixed media such as acrylic paints, oil pastels and markers.
www.instagram.com/em_joh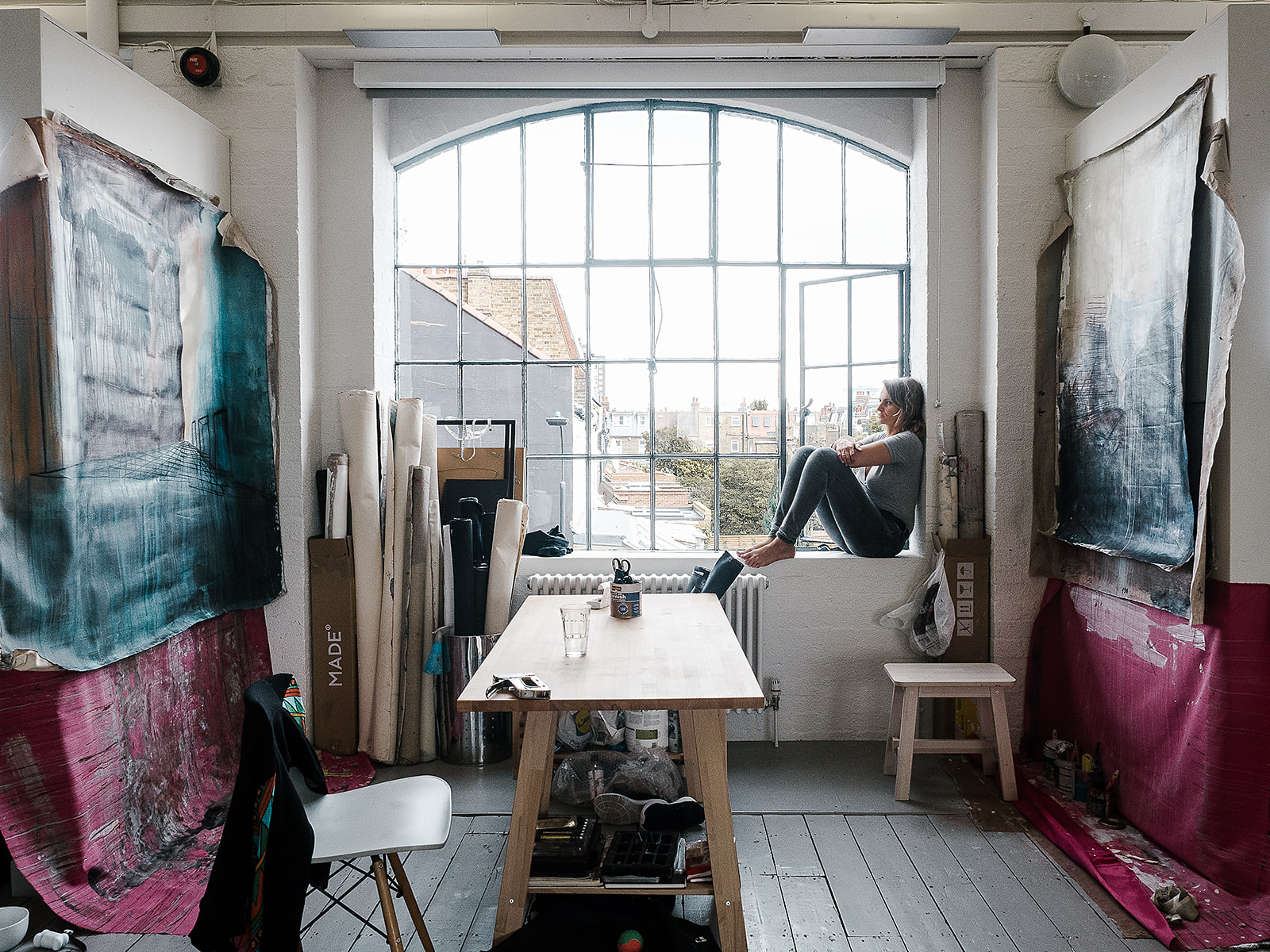 .
RUPERT KNOX
Ru Knox is a well established English artist who had an extensive classical training at one of the most prestigious ateliers in the world. He has spent years as a professional classical portraitist, fulfilling private commissions and exhibiting both in the UK and abroad and he has had much success in international competitions.
Ru combines rigorous formal structure with his own original ideas, displaying his unique and personal style. His work has developed from pure traditional representation to a more contemporary approach, but retains references to his training. His work now is about his responses to the mood and atmosphere generated by life's constant state of flux, which can be perceived by a thousand angles at once from different spaces in time; thereby warping or fragmenting reality. He has a rare and potent emotional expression which has culminated from years of imaginative experimentation with various techniques and textures, but his legacy observational precision and handling still capture the psychology and immortalise the souls of his portraits - with which Ru is fascinated.
Ru's raw imagery (by using methods of layering, burning, scraping and splattering) renders a deeply sculptural yet intangible quality especially when his work is viewed in 'real-life'. These processes achieve both a synergy and a tension between fine intricate draughtsmanship and sheer abstraction, which forms a dynamic and lifting conversation between creator and spectator, arousing a new wealth of emotions.
www.ruknox.com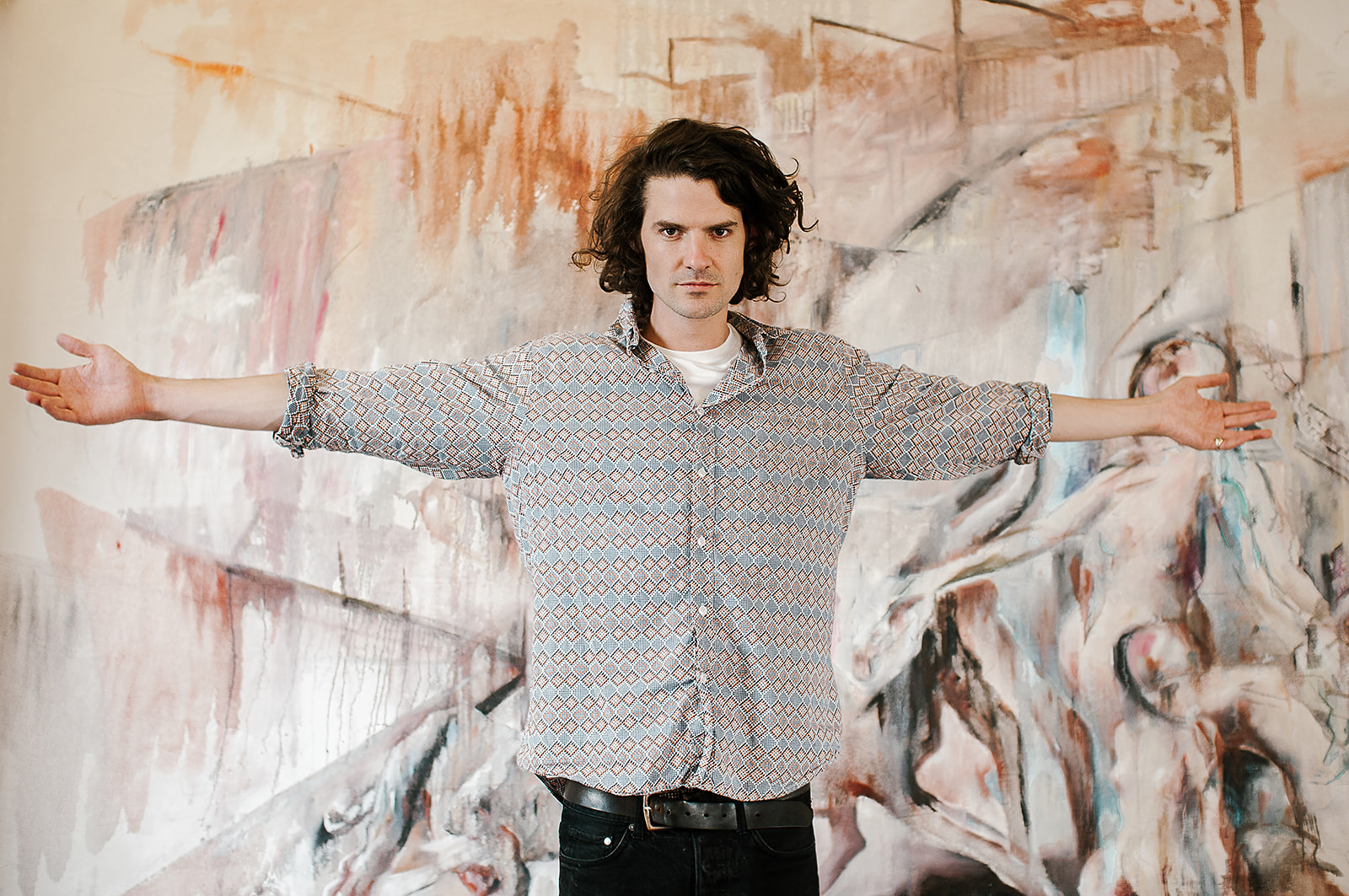 .
STEPHANIE MILL
Stephanie's training in Visual Communication (BA Hons) has influenced the intention behind her work. Using colour theory combined with an abstract approach she encourages you to feel your way with each piece, engaging intuitively with how colour speaks uniquely to your experience, as well as our shared visual language.

The large scale and abstract style of her pieces create colour fields that invite you to connect emotionally with the expressive nature of the colours themselves, and how they make you feel. By combining photography with multiple digital processes, as well as symmetry to emphasise the hidden patterns in nature, Stephanie creates a harmonious balance in her work that heals on a soul level.
www.stephaniemill.com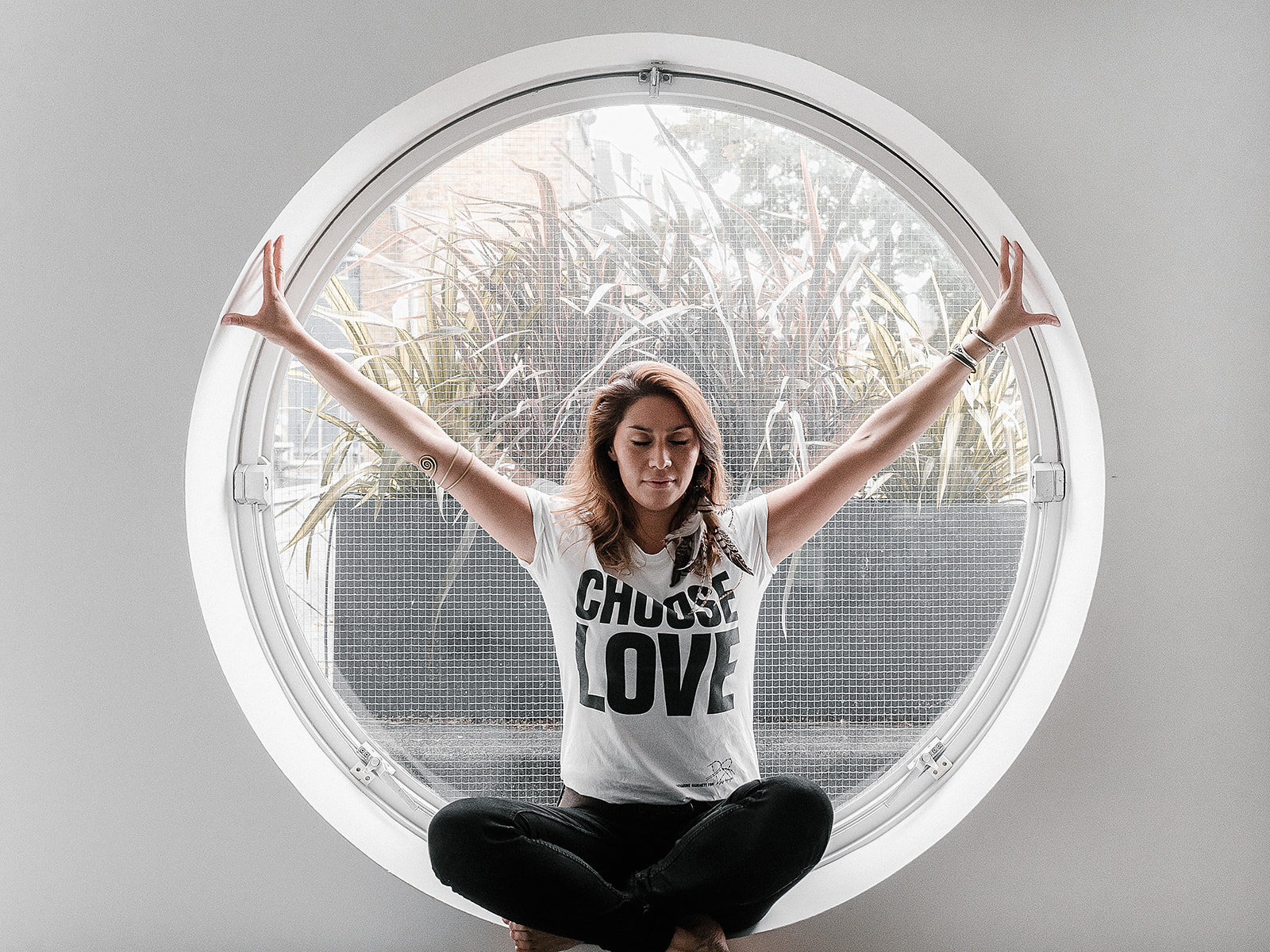 FLEUR VAN DER MINNE
For a ling time Fleur has been fascinated with the question: what is our true nature and why are we sabotaging our own existence. It turned her into a prolific traveller, explorer and she lived and worked in more then 65 countries over the globe, searching and exploring in the outer world.
Along the way she has found means to express her experiences through film, drawings, writing and photography. In her early twenties she's filmed with the famous wildlife filmmaker Baron Hugo van Lawick, re-introduced gorillas back to the wild, stayed with the Native Americans, made a film about special needs children, became a member of the Explorers Club in New York etc.
But a major turnaround moment was when she had a near death experience; she then realised that the outer world is a reflection of our inner world. Since then she has integrated this new world perspective and she uses her camera and film lens as a window to the outer world and uses chalk and painting to express what she 'sees' traveling within.
www.fleurvanderminne.com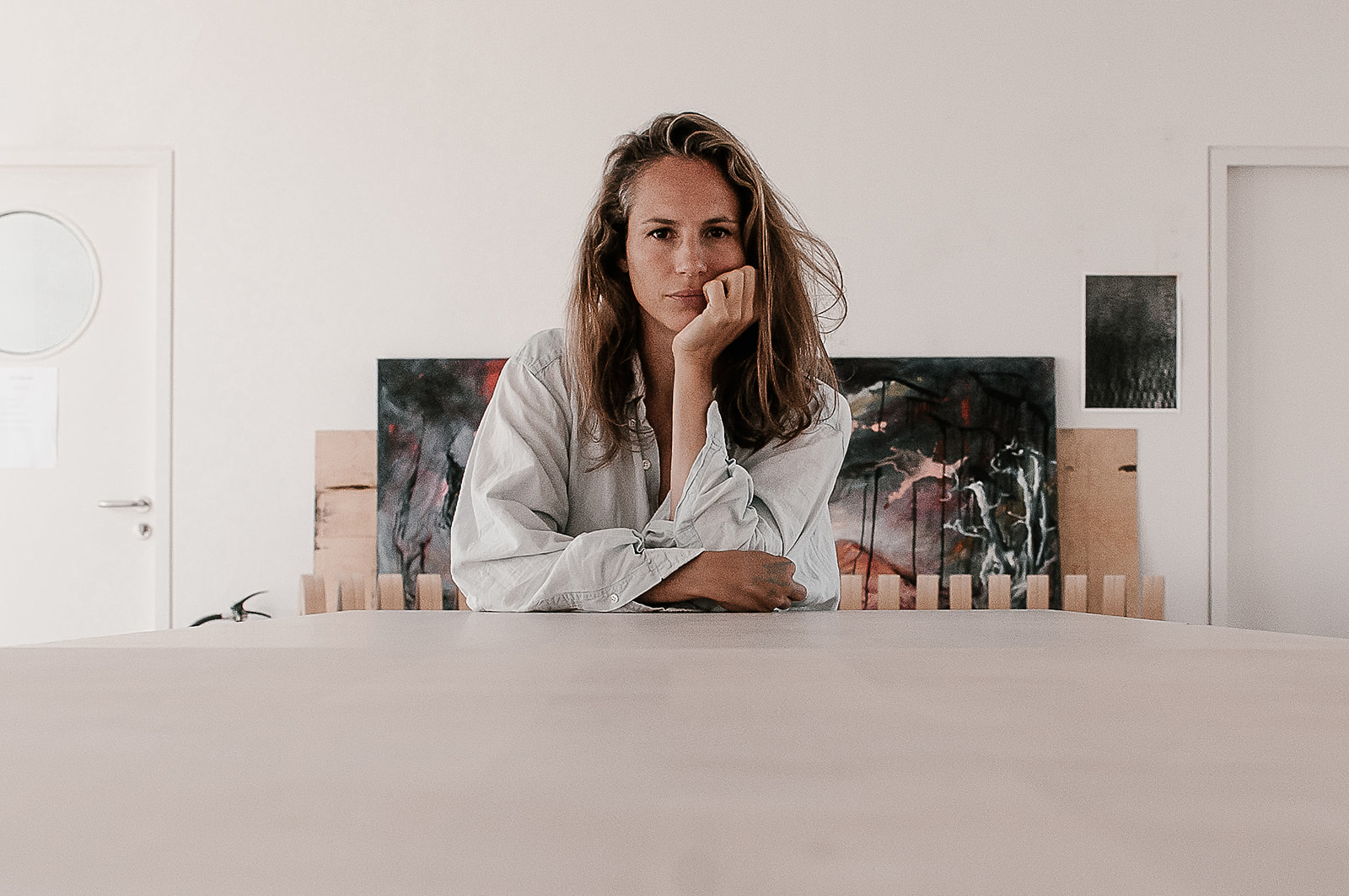 Rita is a Portuguese artist based in London. She lives with her husband and their little daughter called Laura. Rita grew up in a small town near Lisbon. She was the bakerīs daughter who loved cakes, books and drawing; things she loves in adulthood. She moved to Caldas da Rainha in the Portuguese coast to study Fine Arts, a move that had a great impact on both her personality and work. After graduating, Rita explored various occupations to support her work as an artist, such as a photographer, art teacher and art educator. All these experiences helped to consolidate her practice and dialogue. She went back to school again- books being a passion of hers- to do a MA in Arts Teaching. Seven years ago she moved to London with her husband, had a daughter and thereīs where the story begins all over again.. Aside from attending upcoming shows, you can also follow her process on Instagram.
My work talks about my story but also about other people stories- they are always part of the picture. It is always about memories, collective memories. How do we see the drawing? How do we feel about the drawing? Pieces of art wants to play with the spectator, he is always part of the work. He completes the image. The piece remains unfinished until it connects with its spectator. My drawings are like doubles, always pretending to be something else. They are somewhat revealing but unrevealing at the same time. They are not the body, they are the blanket that reveals the body. My images, no matter which medium I am working with, (normally drawing and photography) are like a dictionary of marks, memories, scratches and places. They are there, existing with or without the body. My process demands a raw process of gesture and repetition, suggesting essential drawing techniques, normally used in landscapes or portrait.
www.ritadesa.com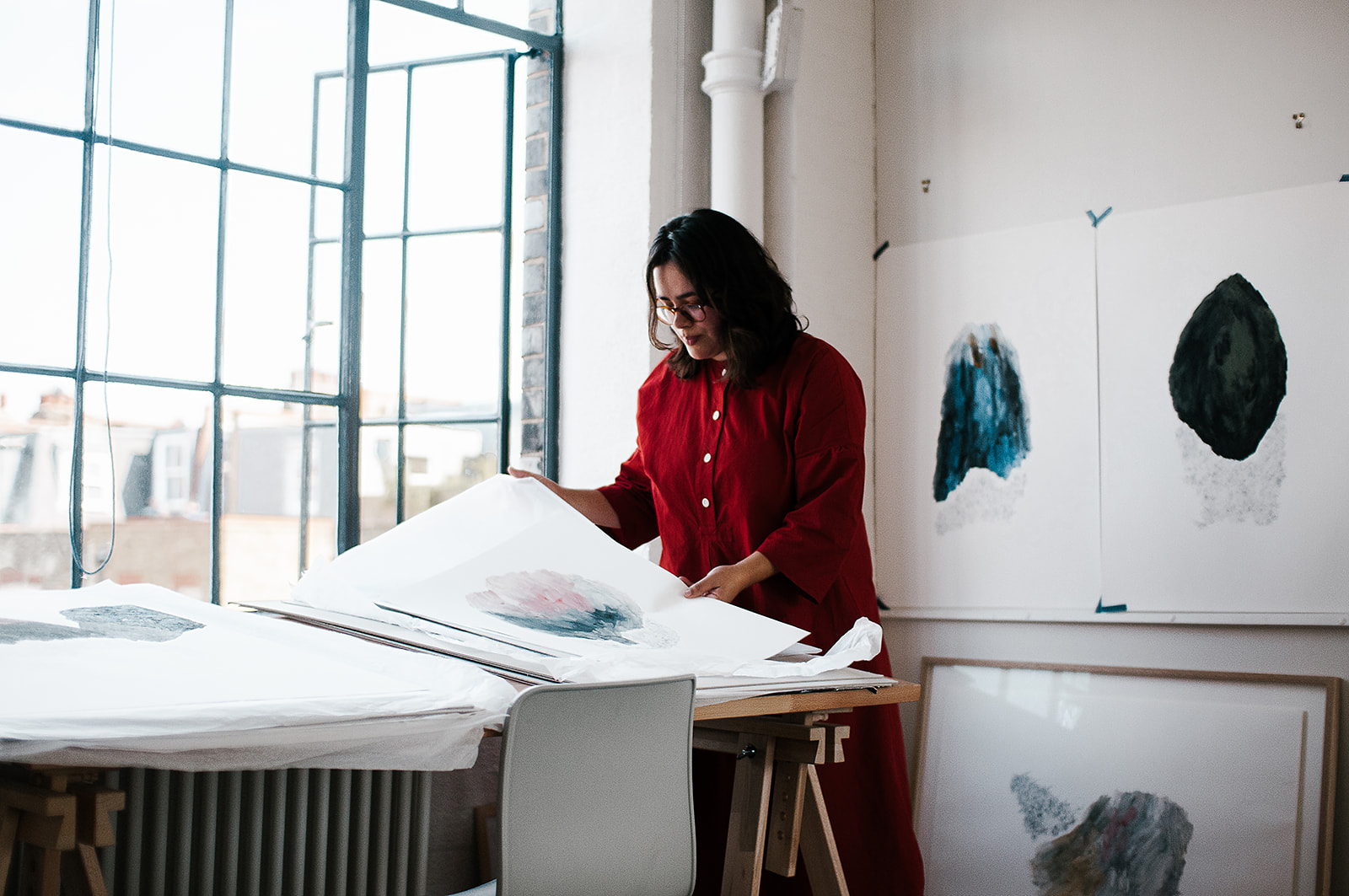 JAMES VAULKHARD
James Vaulkhard is a Kenyan-born, London-Based visual artist specializing in classical realism and statutory arts. He holds a Bachelors Degree in History of Art from Leeds University and has trained and taught at Charles Cecil Studios and Studio Della Statua in Florence.
Over his four-year period in Florence, James gained a prominent reputation for his ability to embrace and manifest traditional techniques in both his portrait and sculpture work. In 2013, he was commissioned to participate in a bridge project between Italy and Kenya, developing the preliminary studies for the Kericho Cathedral in collaboration with local Kenyan sculptors.
A year later, he relocated to London and continued to develop his artistic style, moving towards a more experimental category of visual expression.
His present work revisits and refracts his roots in portraiture, taking his subjects from popular culture, and crafting images that are at once naturalistic,
representing a commitment to the rendering of optical reality but also
incorporating a multi-media approach with elements of collage work at the forefront.
www.jamesvaulkhard.com